MyNestBox launches new product
MyNestBox's newest software, MNB Assess, has launched to enable new build developers, land agents, architects and investors to search for non-developable "deal breakers" and constraints on land. MNB Assess is a data-led app which outputs personally branded site constraint reports in less than 10 minutes, which is more than 12x faster than doing it manually. Users have been reported as saving 2 days a week using this software.
The information in the reports are displayed on maps containing detail of coal mining entry points, underground utility assets, radon gas, listed building, historic landfill and much more.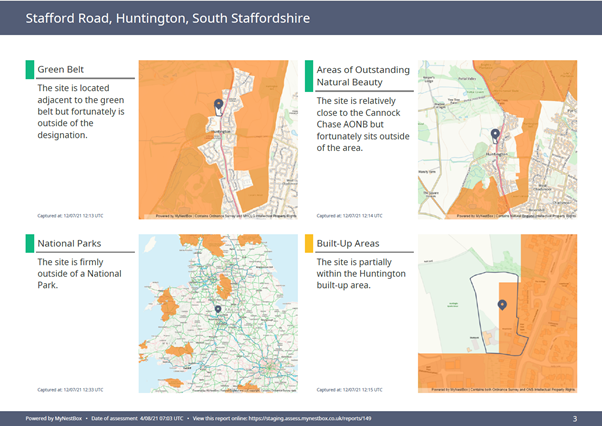 A screenshot of page 3 in the MNB Assess report
Founded in November 2020 by Dr Henry Crosby PhD (CEO) and Adam Rogers (CTO), MyNestBox was funded by a small group of business angels and immediately awarded a grant under Innovate UK to support product development.
Now MyNestBox employs a team of data and software engineers, as well as property and proptech professionals all of whom have personal experience of the property industry's inefficiencies.
Dr Henry Crosby PhD said:
When we set up MyNestBox, we knew that our expertise was in developing data science technologies to make property assessment instant, so we started building our data lake from day 1.

Our data lake already contains several novel datasets, built from bespoke technologies created by our team. We are fanatical about market research, so we only put data into our platforms if it solves a problem for our users.

The first problem that we are solving is in creating instant initial site assessment reports for new-build developments.
What next? MyNestBox has a clear vision to enable more people to own good quality homes which, in the fullness of time, will support home builders, surveyors, conveyancers, agents and homeowners.
MyNestBox also provides several educational resources of unbiased information and free datasets to empower consumers and those looking to get into the property profession. Find out more on our website.