End of 2020
Dr. Henry Crosby · Co-Founder & CEO
An activity that every member of our team goes through after an initial period of job familiarisation is to create a list of the 3-4 main jobs that they are entirely accountable for within the MyNestBox team. These jobs are unique to each person and provide a sense of purpose and accountability to each role. Everyone knows exactly what tasks need to end up in their "important" category on their daily to-do list. It is an empowering way to work.
Ironically, despite this being my idea originally, I found it very difficult to define my own. After reading Fred Wilson's article on 'What a CEO does', my job was done:
to determine and disseminate a clear vision and strategy;
to recruit and retain exceptional talent, and
to ensure that there is always money in the bank.
As it stands, all of these jobs seem to take up my time in roughly equal measure during the working day. Although there is one part of my job which is always welcomed outside of the working day, and that is to "dream about the future". In a world of unlimited funds, I would employ our whole team to "dream", and we would sit in a room and dream together. But, instead, our funds are limited and MyNestBox have an awesome team of people who know how to prioritise execution over dreams. So we get on with it. We celebrate our daily successes, we look back in amazement at what we have achieved so far, and we create plans for our immediate future to help us achieve our vision to make property purchasing informed, simple and enjoyable.
Given that my evenings and weekends involve me getting lost thinking about what MyNestBox will look like in 1, 5 or 10 years and the fact that 2020 was coming to an end, I thought up an exercise for myself to create a newspaper headline about MyNestBox in ten years (December 2030). At risk of taking myself too seriously, I invited my colleagues at MyNestBox to do the same. I was not disappointed by the (almost immediate) responses from the team. Similarly, I was not surprised at all by the fact that we did not get one sensible answer either (well that's not strictly fair, we did get one sensible answer).
I then decided that some of these headlines and short stories from the team were just too good to not share. Those of you that know us well will know that this is a perfect way to show off our team personality… we are a team focussed on creating value, but we know when to have a laugh. Thank you to my colleagues for continuing to keep me grounded and focussed each day!
When I read our first headline, my heart started to sing, and then the story that followed was (in my eyes) just terrifyingly creative: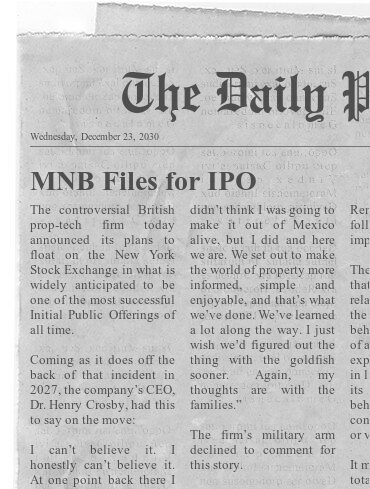 We then had a much more literal interpretation of the company: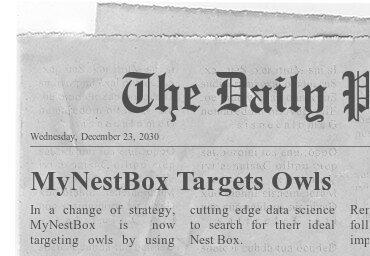 A reference for some of our more experienced readers then came my way: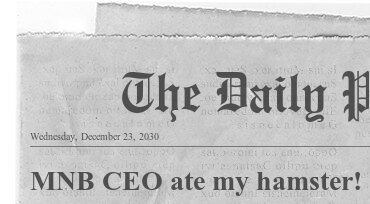 Followed by the inevitable Godzilla quote: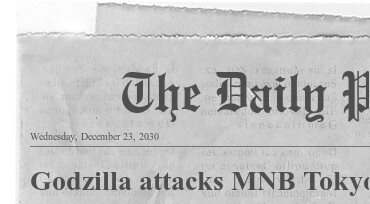 Then (at last) we had our first aspirational headline (thank you to the one team member who kept it sensible):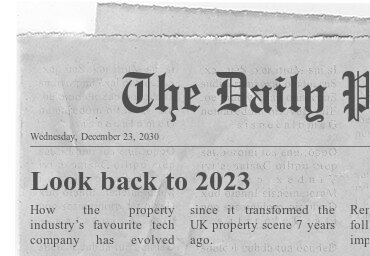 Our penultimate headline then dreamt big in a controversial bid to pay neighbours for being "good":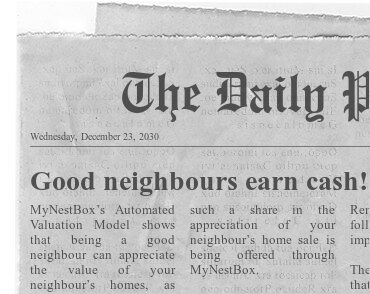 Then finally, the pessimistic alternative, inspired by the description of Sir Philip Green (in the headlines about the downfall of Arcadia in the press at the time of writing) as "an analogue man in a digital world", which just had to be done: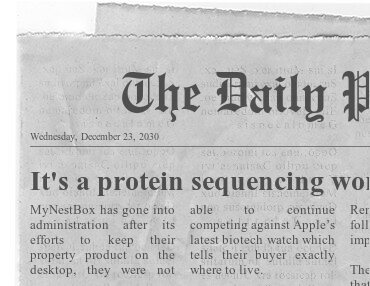 We then had every real estate professional's dream of obtaining an entirely new market to themselves:
Our penultimate article inspired me whilst also making me very sad. Note to self: set up an Owl Sanctuary before 2030: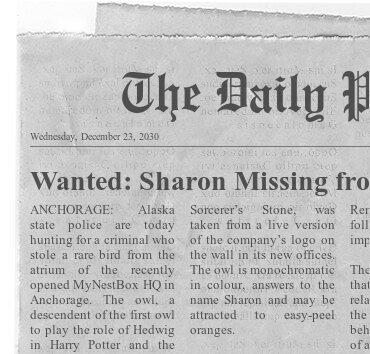 Then we finally landed on this gem:
All I can say is 'Wow'! Some may happen, and hopefully others won't. But one thing is for certain, I can't wait to find out what the future holds.
Here's to the end of 2020, and to the next 10 years of MyNestBox!